Everything You Need to Know About Halo Hair Extensions
☆What is Halo Hair?
Hetto Halo hair extensions are a one-piece hair extension with an invisible wire, similar to a fishing wire, that secures onto the top of your head like a headband. The length of the wire is measured so that it is customized to the size of your head which prevents it from slipping or being too tight, thus creating the perfect fit. Unlike other hair extensions the Halo doesn't physically attach to your hair, it simply sits on the top of your head, hence the name 'Halo', whilst your real hair weighs it down to secure it in place.
☆Why choose Halo Hair Extensions?
100% Real Human Hair

: No synthetic hair. We use real human hair for all our halo hair extensions. So you get silky and smooth hair extensions. No tangle, No shedding.

Healthy&Easy

: Don't need glue and heat. No damage to your own hair and very easy to wear. You can change your hair style in few minutes with our wire hair extensions.
Durable: Halo hair extensions can last about 3-6 months. (depending on usage and care methods)

Style Hair

: Halo hair extensions can be dyed, curled and straightened. (temperature should below 180℃

)

Easy Return and Exchange

: Please don't worry about receiving unsuitable halo hair extensions, we offer free exchange.
☆
How to Apply Halo Hair?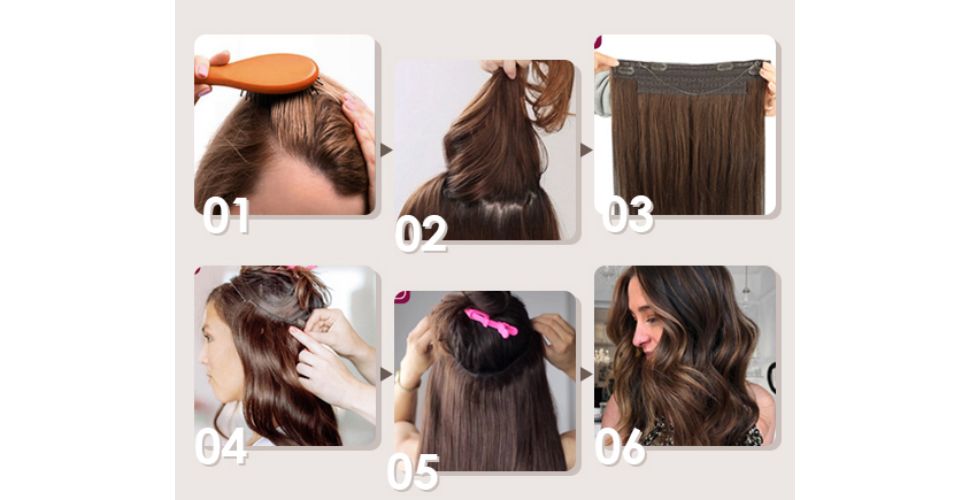 Put the extension on the head and pull the wire to tighten for a perfect fit. Knot the loop to secure extension in place.

Either split the hair around the ears or leave it over the tops.

Pull your own over the flip on hair extension to completely hide the wire and enjoy beautifully, longer, fuller hair in just minutes
☆How to adjust the wire?

According to your head circumference, put plastic hooks into different lace gaps.
How to Take Care Halo Hair?
Comb your hair extensions with a spacious wired comb before washing.
Use Sulfate-free products to wash your hair in warm water.
Do not Rub or Twist hair when you wash them. Crush straight hair in a downward motion starting with the ends, work your way up to the roots.
Apply conditioner After rinsing off the shampoo.
Please note that when using heating tools, the temperature should not exceed 180 degrees.
Often use essential oils to care for your hair. SEE MORE
You may also like:
How to Take Care Our Hair Extensions
Everthing You Need to Know Before Buying.